Welcome to kalatechs, the first ICT recruitment portal in MENA region from kalamntina
Based on the received findings of our meticulous and constant research, we, at kalamntina, have developed comprehensive recruitment, outsourcing, consulting and training services & solutions in the quest of filling the gaps in the HR practices in the Middle East; moreover, we intend to provide our clients with value-added services in order to ultimately enable them to achieve their desired business goals.
With its headquarters based in Amman-Jordan, has kalamntina provided value-adding services to more than 300 organization across MENA region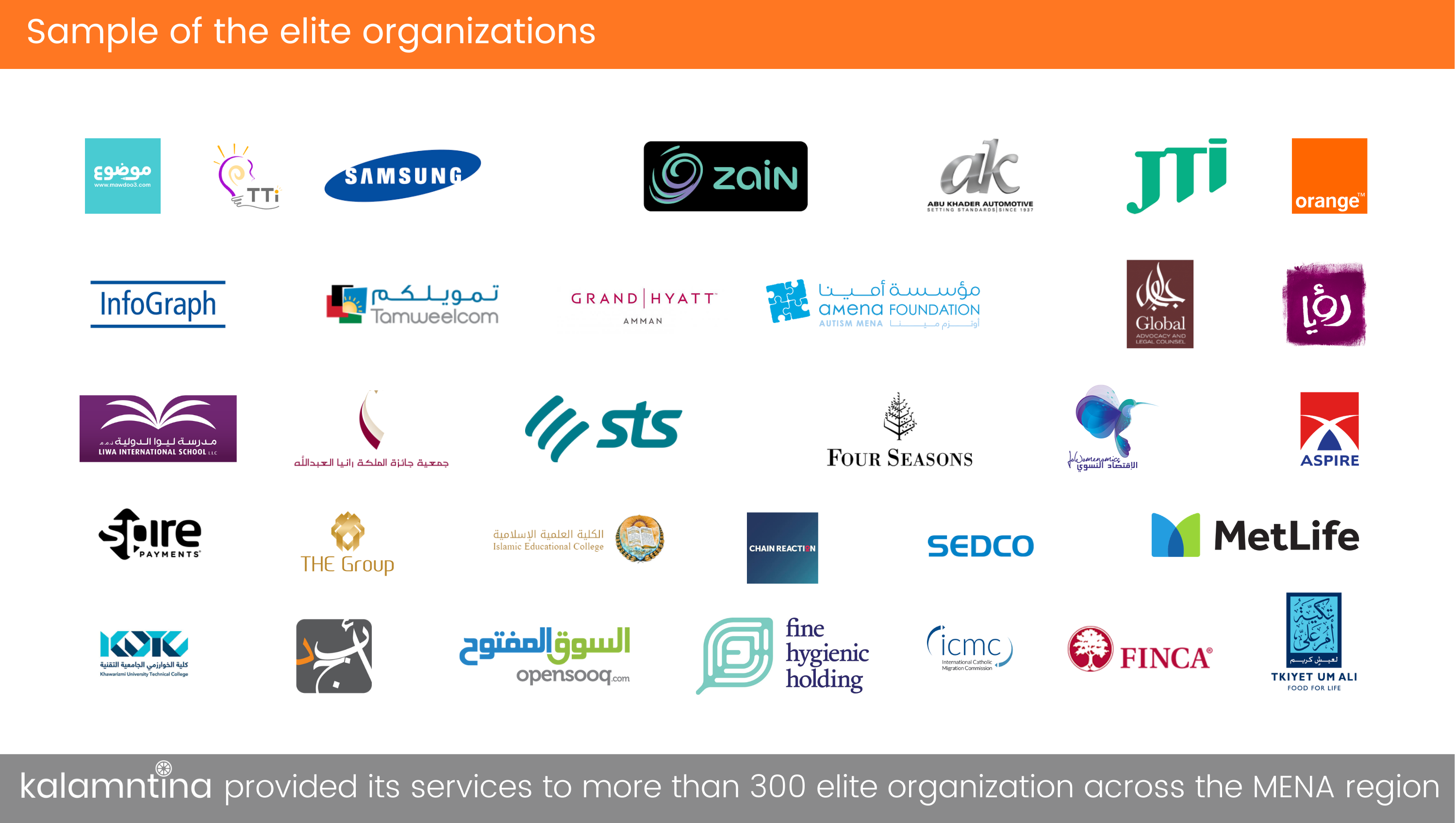 Our Tailored fully-fledged services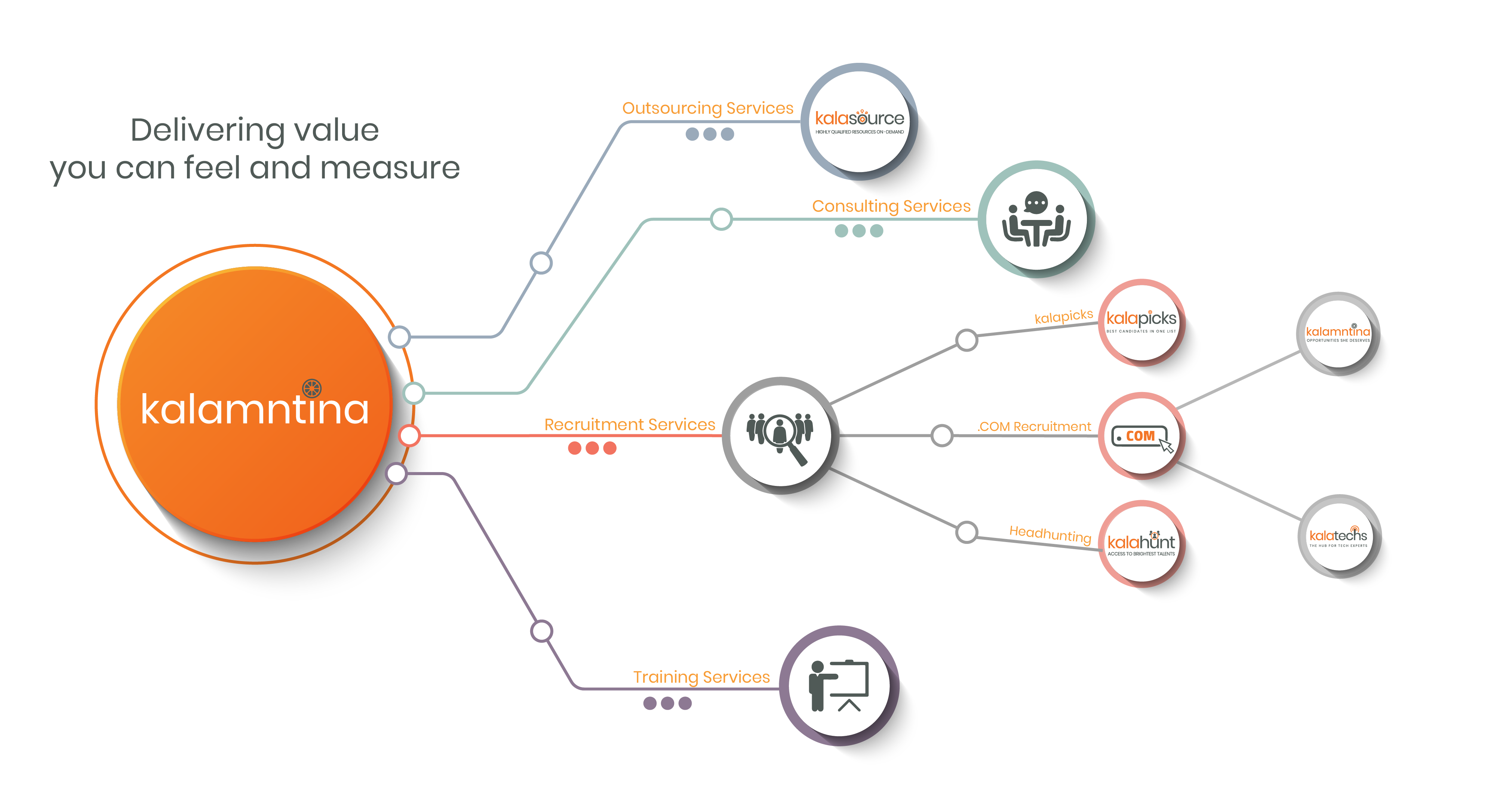 Recruitment Services
We provide fast, responsive and effective comprehensive recruitment services that fit the needs of all types of organizations across various industries.
We offer three types of recruitment services:
Through our .COM recruitment services you can reach out to more than 200K+ candidate through posting your vacancy on our portals & social media pages.
kalamntina.com
The first portal for women recruitment in MENA
kalatechs.com
The first portal for ICT experts recruitment in MENA
kalapicks

Hiring the right candidate is easier, faster and more efficient through kalapicks the affordable revolutionary solution that help you get qualified candidates profiles exactly matching your requirements. Our experts will source, scan and recommend the best candidates for you to hire.

kalahunt - Executive Search

Our specialized headhunters will help you hire the best and brightest talents, sourcing and evaluating candidates who will add real value and driving your business growth. Our kalahunt methodology is designed based on leading practices to support and advise you on strategic recruitment for the critical positions within your organization
Outsourcing Services
We help our clients getting access to highly skilled expertise, reducing overhead, staffing flexibly, and increasing efficiency.
Using our four phases kalasource outsourcing methodology, our experts will help your organization in analyzing and identifying the jobs and tasks to be outsourced in order to support your business growth
We provide outsourcing services in the following domains:
Information Technology
Human Resources
Management Consulting
Marketing & Sales
Project Management
Consulting Services
With a focus on our clients' most critical issues and opportunities, we provide management consulting services that add value and enhance business growth.
Our consulting services are designed to support your particular situation and needs in order to reach the business goals of your organization.
kalatechs consultants work closely with our clients to provide wide-range of tailor-made consulting services to add real tangible value in nine main domains:
Business / IT Transformation
Organization Development
Project Management
Quality Management
Market & Feasibility Studies
Organizational Assessment / Diagnostic Studies
Business / Strategic Planning
Human Resources
Training Services
Through best trainers in MENA, we provide 120+ customized training program & course in different domains
Our training programs are developed based on a thorough research in order to help our clients identifying and developing the competencies required to meet current business needs and the capabilities required to meet future strategic direction
kalatechs experts provide training programs in the following domains:
Project Management
Strategy & Planning
Supply Chain Management
Human Resources
Sales & Marketing
Accounting & Finance
Digital Marketing & Social Media
Quality & Productivity
Interpersonal Skills & Self Development
Team Building
These categories are constantly reviewed and updated to ensure they include the latest subjects and those that are most relevant to today's business environments.
Interested to know more! please don't hesitate to contact us to learn more about our designated services and to be one of the noble organizations in the Middle East.
Contact Us:
Email: employers@kalamntina.com
Mobile: +962 79 5208480